About Telescopic Hydraulic Cylinders
Our customers often face different requirements when designing equipment. For example, the hydraulic cylinder to be used in the folded state must be sufficiently compact in size. At the same time, the stroke of the hydraulic cylinder in the working position must be larger than in the folded state. In order to meet such requirements, Eurobalt manufactures telescopic hydraulic cylinders according to individual customer requirements. The capacities of our company allow the production of single-acting telescopic hydraulic cylinders and double-acting telescopic hydraulic cylinders with various types of attachments. The production of a double acting telescopic hydraulic cylinder is more complicated and expensive, and the design of such a cylinder is more complex.
DESIGN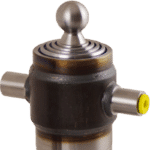 In simple terms, a telescopic hydraulic cylinder consists of several nested and sliding cylindrical segments of different diameters. And there can be two, three, four or even five or six of these segments. This design provides a compact size when retracted and a relatively long stroke.
High Quality Raw Materials
Honed liners are manufactured from standard ST52 and special 42CrMo4 materials with accuracy grades up to H8.
Internal surface finish Ra 0.3
Chrome-plated rods are made of SK45 and 20MnV6 materials.
Surface hardness is 60HRC, surface finish is R0.2 and chrome plating thickness is up to 50 mkm.
Applications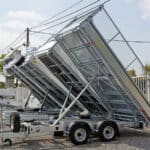 Due to this design and size, this type of hydraulic cylinders is widely used in trucks for lifting and lowering bodies, in booms of lifting equipment for extending their sections, in various types of lift equipment, in drilling equipment, in trailers and semi-trailers of agricultural machinery and so on.
Analyzing all the orders we have received in our work and the growing needs of our customers (including manufacturers of machines and equipment designed to work in harsh conditions and corrosive environments), we can conclude that the most common type is single-acting telescopic hydraulic cylinders. Double-acting telescopic hydraulic cylinders are used much less often because they are more complex and costly to manufacture. Their design includes a more complex hydraulic fluid supply system and requires additional seals, and the manufacturing process itself is longer and requires the use of additional equipment.
Manufacture of telescopic hydraulic cylinders
Our interesting cases
Many manufacturers of telescopic hydraulic cylinders are limited in their capabilities. And they can produce telescopic hydraulic cylinders with certain maximum characteristics. Our company, thanks to its large production fleet and availability of the necessary equipment, has no limitations in its production capabilities. For example, the largest telescopic hydraulic cylinders we have produced were cylinders with a diameter of 500 mm or a cylinder with a working stroke of 32 meters.
Another interesting case in our practice was the production of a combined telescopic hydraulic cylinder. It is used to lift a heavy high structure into a vertical position. And when all the work is done, our hydraulic cylinder returns the structure to the horizontal position. Since the structure is very tall and heavy, the telescopic ram worked as usual until it was fully extended to raise it to the vertical position. And when it is necessary to return the structure to the horizontal position, the first section of the telescopic hydraulic cylinder works as a double-acting hydraulic cylinder on retraction to provide the initial force and the structure begins to tilt. All other sections are retracted by gravity and the weight of the structure itself until the structure is lowered to the horizontal position.
Hydraulic cylinders testing
Find out more about our quality control and hydraulic cylinder testing
With our own equipment, we rough and finish hydraulic cylinder parts and can guarantee 100% quality control at all stages of production. Learn more about testing and quality control
 Prior to shipment to the customer, all of the batch we produce is sure to pass a complete quality control and meet the customer's specifications.
Honed liners are produced from standard ST52 and special 42CrMo4 materials with an accuracy grade up to H8. Internal surface finish Ra 0,3

Chrome plated rods made from SK45 and 20MnV6 materials. Surface hardness is 60HRC, surface finish is R0.2 and up to 50 mkm chrome plating thickness

Rod and piston seals from standard materials or from combination of selected materials with varying compositions and properties

Wipers, depending on the application, from elastic and resilient polyurethanes and rubbers, hard plastics or Teflon elastomers

Guide and shielding rings made from hard and low-friction materials

Shaft seals: Active parts from rubber and polyurethane groups; reinforcing parts from solid plastics or metal.

Hydraulic cylinders to your drawings
Need to manufacture a hydraulic cylinder? We can modify any parameter to your requirements and even produce a hydraulic cylinder of non-standard design.